HOME > Product > class
Stainless Steel Machined Parts
CNC Precision Machining Capabilities
CNC Precision Machines

7 sets Located in Shajing, shenzhen factory ( Headquater )
15 sets Located in Changan, Dong factory

Machined Material

Stainless steel,  carbon, tool steel, titanium,
Brass, bronzes, copper and cooper alloys,
Aluminum and aluminum alloys,
Plastic: Nylon, PA, ABS, PMMA, PCS,

Processes

CNC Milling, Grinding, EDM, deep hole gun drill, polishing,

Part Size (Maximum)

1200*1000*600mm(L*W*H), 5 tons

Tolerances (+/-)

0.01mm

Additional Services Offered

Design,
Engineering
CAD/CAM
Reverse engineering

Quality Control

CMM, projector inspector,

Files Formats Accepted

MasterCAM
IGES, STEP, X_T,X_T, DXF, DWG, PDF, SLDASM,

Surface Treatment

1:Polishing, Nitrided, Tufftride, Black Oxide,  Clear Anodized, Case Hardened, Flame Hardened.
2:Sand blasting, Engrave,
3:Zinc Plating, Nickel Plating, Flash Chrome Plating, Solid Chrome Plating
Samples of Precision Machining/Stainless Machined Parts
CNC Machined Part Number: D2503580
CNC Machined Part Name:

37627ES-01 PLATE
CNC Machined Part Size: 332.4*160*12mm
Machined Material: CRS
Quantity: 2 pieces
Surface Treatment: N/A
Lead time: 10 days

CNC Machined Part Number: 37542ES-01
CNC Machined Part Name:

WORK HOLDER
CNC Machined Part Size: 49*36*29 mm
Machined Material: Tool steel, A2
Quantity: 2 pieces
Surface Treatment: N/A
Lead time: 10 days

CNC Machined Part Number: 140084-22A-306
CNC Machined Part Name: Plate
CNC Machined Part Size: 112*8 mm mm
Machined Material: Stainless steel P21.
Quantity: 1 pieces
Surface Treatment: N/A
Lead time: 10 days
Engineering Consulting and Service.
Realhao Precision not only help customer to make drawings for Precision Parts/ Stainless Machined Parts but also can make 3 D drawings according to the 2 D drawings. CNC Machining center will machine the parts according to computer controlled program. The controlled program will be made by CNC program engineers by 3 D drawings not 2 D drawings.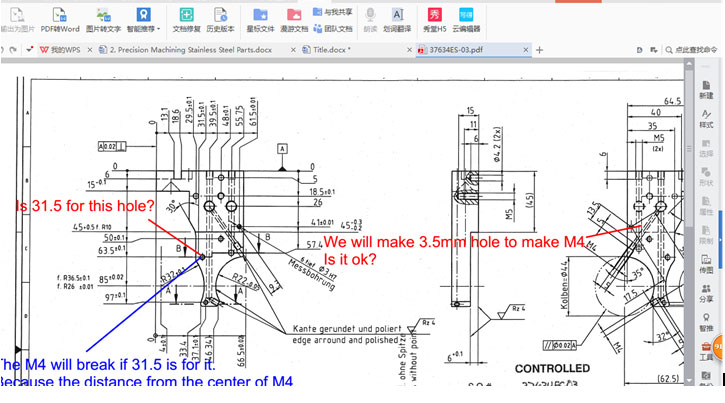 After geting 2 D drawings from customer, the engineers in Realhao Precision will check the drawings carefully, inspect every features on the machining parts and make DFM ( Design for manufacturing) for each precision machining parts before make the 3 d drawings. All the confused features, wrong dimensions, missing dimensions and interfered place must be pointed out. Engineering consultant advice will be given to the customer. The customer will decide how to make changes on precision machining parts.
Inspection Report For Precision Machining Parts.
All the precision machined parts must be inspected before delivery. And inspection report will be sent to the customer by mail. Customer has to send the 2 D drawing in the form of PDF, dxf, or dwg with tolerance.